2017 Volvo V60 Cross Country
Rugged Capability and Refined Luxury are Standard in the 2017 Volvo V60 Cross Country
All-Terrain Readiness and Performance
You may not always need 7.9 inches of ground clearance for getting around Clifton or Glen Ridge, but it's certainly nice to have it when you do need it. Camping trip? Rough, pot-holed roads? That ride height can come in handy when you want to enjoy a smooth ride and avoid scuffing up your new Volvo.
The standard all-wheel drive of the V60 Cross Country is another feature that hides in the background until you need it- and then it's invaluable.
The direct-injected, turbocharged 5-cylinder engine gives you 240 horsepower and 258 pound-feet of torque. The V60 Cross Country makes a lively and enthusiastic driving companion.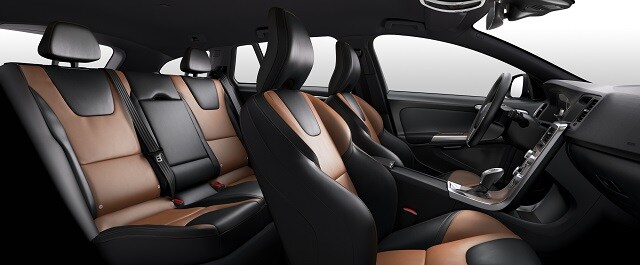 Creature Comforts and Luxe Convenience
Likewise, you may not often need to turn your Volvo V60 into a wi-fi hotspot, but there may come a day when you're cruising through Jersey City or Hoboken, desperate to find the best sandwich around. Wi-fi to the rescue: you can use your smartphone apps without running up your data.

Shopping in Secaucus? Cover up your treasures with the V60's retractable cargo cover. With an under-floor hatch, you can even hide your valuables in a secret compartment- just don't forget you put them there!
Safety and Security
The Volvo V60 Cross Country provides the protective measures you know and love from Volvo. Airbags abound and safety systems are thorough. City Safety Collision Avoidance Technology and daytime running lights are standard. A few of our favorite available features are:
Adaptive cruise control
Blind spot detection and cross-traffic alert
Collision warning with full automatic emergency brake
Road sign information
Dual Two-stage Integrated Booster Seats are available for families with small children. We all know that kids tend to grow up rather quickly, and Volvo knows the struggle of keeping up with them. The integrated booster seats are super easy and fold into the rear seat when not needed.
Please visit our Hasbrouck Heights showroom to test drive a Volvo V60 Cross Country or give us a call to learn more!